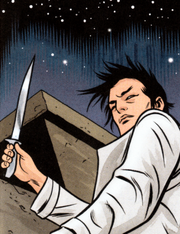 Horatio is a monster hunter who is also the love interest of Gwen Dylan, He works with Diogenes to hunt all kinds of monsters. He loves Gwen, despite knowing about her zombie nature.
Ad blocker interference detected!
Wikia is a free-to-use site that makes money from advertising. We have a modified experience for viewers using ad blockers

Wikia is not accessible if you've made further modifications. Remove the custom ad blocker rule(s) and the page will load as expected.