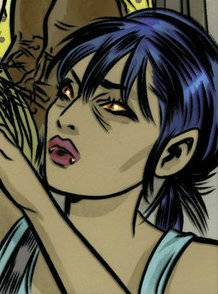 Tricia Nakagawa is one of Gwen Dylan's past friends who turns into a vampire. Gwen has to face her again after she eats the brain of Tricia's mother. She is in love with Francisco.
After facing financial troubles and with nowhere to go she accepts Nadia's offer to become a vampire and reside with the other vampires of Eugene, Oregon.
Ad blocker interference detected!
Wikia is a free-to-use site that makes money from advertising. We have a modified experience for viewers using ad blockers

Wikia is not accessible if you've made further modifications. Remove the custom ad blocker rule(s) and the page will load as expected.